Speaker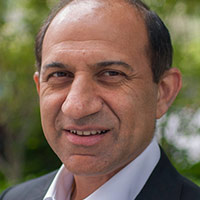 Venugopal Pai
VP of Customer Success
Nutanix
Your Transformational Journey to a Multi-Cloud World
Enterprises are in the middle of a business and technology transformation that is challenging the status quo to deliver against competitive pressures, increased cost and complexity, the attraction of simplicity and agility from the public cloud, and the need to address the same if not better customer experience in the middle of the pandemic.
Nutanix was born in the era of the cloud, and over the last 10 years has methodically developed a platform that addresses the four 'Cs' facing us to the needs of the business: Complexity, Cost, Cloud and COVID-19. We have methodically evolved and delivered on a vision of a multi-cloud world that peels away these layers and offers a transformation journey that respects the 'legacy of incumbency' while showing how your IT organization can tackle these challenges with confidence.
Come and listen to Venugopal Pai, VP of Customer Advocacy / Experience at Nutanix, share his experiences and customer stories over his 7 years at Nutanix helping the top global customers run into these same challenges and share a roadmap to help you down your journey. In this roundtable, you get an opportunity to hear their vision and strategy and the customer stories across the globe and the Americas, tell yours, share your challenges with your peers, and have a generally good time!
We hope you will walk away with solutions and answers to help with:
Addressing increasing cost and complexity grappling how to build a private cloud 'on your terms'
Challenges you face in 'moving to the cloud' including terms like 'Lift and Shift', re-factoring, cloud-native, reigning in spiraling cloud costs, application mobility
A roadmap to build a multi-cloud platform where IT is still in control
And a few customer stories!