Let's talk SASE - First the Noise, Now the Reality
Speakers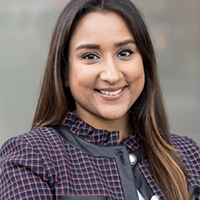 Malavika Balachandran Tadeusz
Product Manager
Cloudflare One Intel
As enterprises migrate applications and data to the cloud, managing a network perimeter becomes costly and complicated.
With the emergence of the Secure Access Service Edge (SASE), network and security professionals are beginning to build migration plans toward this new architecture that adapts to the distributed nature of users and data.
SASE promises to reduce complexity and cost, improve performance, increase accessibility and enhance security. The question becomes: how do you gain these benefits as you work towards implementing SASE?
In this roundtable, we'll share experiences on the challenges of managing today's corporate network through transformation, and share a new vision for how Cloudflare is utilizing our massive global network to connect users, offices, and datacenters.
Take Aways
How 2020 changed everything for security teams, and what's next
Why traditional network architecture strategies no longer protect users or data
SASE simplifies network infrastructure by merging networking and security services into a unified architecture, delivered on the cloud edge.
How Cloudflare One can enable quick wins on the path to Secure Access Service Edge (SASE) and Zero Trust
Become a VIP attendee for the Let's talk SASE - First the Noise, Now the Reality Digital Boardroom and move your organization forward on current goals. If you are interested in attending the digital event, fill out the form below and a CDM Media representative will contact you with more information.
If you would like to speak directly with someone about the event, contact marketing@cdmmedia.com or +1 312.374.0805.